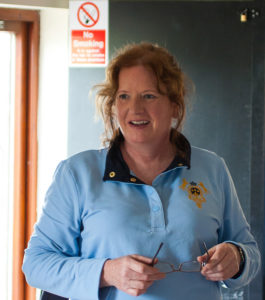 Many of my clients are very interested in understanding why their horses behave in certain ways and want to know more about what makes their horses tick. They wanted to learn how and why certain training methods work and others don't. Many are in the process of training youngsters or retraining older horses.
Whilst studying for my MSc in Equine Science I became interested in Equine Behaviour, Equitation Science and Applying Learning Theory and I incorporate much of this knowledge into my riding lessons.
I have put together a series of un-mounted equine behaviour clinics which I hope will help demystify horse training. Each clinic is stand-alone and it is not necessary to do them in any specific order. The talks, as well as being fun and interesting, do contain much scientific information which I present in a way that will be understood by all. A useful handout is provided for each clinic.
The Horse's Brain, Senses and Behaviour
Talk One: The World from the Horse's Perspective
Talk Two: Managing and Influencing Equine Behaviour
Learning Theory, Training and Retraining Horses
Talk One: Applying Learning Theory in Horse Training
Talk Two: Understanding and Dealing with Unwelcome Behaviours
Training Methods and Ethical Equitation
Talk One: Training Techniques: The Good the Bad and the Ugly?
Talk Two: Ethical Equitation: The Future for the Horse?