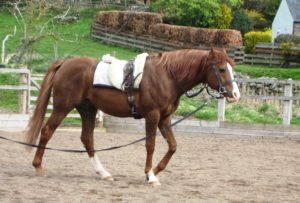 I want to be part of a force for good. A new movement exists in the horse world where people are questioning a lot of traditional horse lore and are keeping the good and discarding the bad. I want to be part of that and to pass on the good methods that I have learned.
I don't want to force my horses into an "outline". I want to train using exercises that will build strength and use the correct muscles so that my horses will carry themselves in lightness and beauty.
I want to work with what nature has given the horse and help him to retain his beauty and his joy in being alive. Submission is not a word that I am happy with.
I want to ride horses in such a way that they want to be ridden by me. I want them to feel confident to offer me more. I want to work with them calmly and sympathetically.
I want to have a ridden conversation with horses and listen to their feedback.
I'm committed to a lifetime of learning all I can about a horse behaviour and welfare and seeking out ethical training methods.
I don't believe that there is a place for egos in the world of horse training. It should be about the horse's needs.